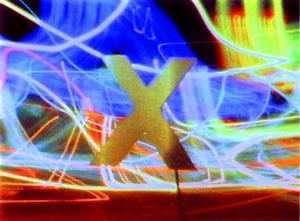 Super-8 Time Exposure shot on location.
Echo Park Offers Super-8 Classes for ALL AGES.
For more Information
on my 20 plus years
making films and videos,
please visit Alex LOGIC.
I am also an ideas person,
and an excellent collaborator.
Echo Park Film Center, located near Down Town Los Angeles, offers an array of film making classes for kids of all ages. Click here to learn more.


If you are a film instructor who thinks everything is being done digitally nowadays, think again. Super-8 film processing can still be found and can enhance any digital filmmakers repertoire.

Learning the foundational single frame animation by which all true animators adhere to are actually learned more organically via super-8 single frame cameras that offer time-exposure options.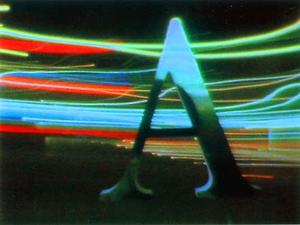 Super-8 time-exposure image.
Super-8 in the Classroom.
When I was in college I found that single frame animation, both time-exposure animation of night life or the classic "Rudolph the Red Nosed Reindeer" style, allowed me the opportunity to make films even if I had no crew, no actors, no set, and no help!

When shooting time-exposure animation I would use the outside nightlights for my movie set. However, many times I found myself driving as far as 90 miles in one direction to find the kind of night time activity that I would want to film time-exposure style. Time-exposure tends to also be more of a winter season activity as well.

I could also shoot the classic stop animation technique involving a bendable character one could buy from the store. In essence one bendable character was all I needed to create a stop motion film. I would shoot primarily indoors and once again, film even when I could not find anyone to help me. I would "animate" the bendable character by slightly moving their arms and or legs, or head, in between each single frame picture that I would take with my super-8 camera.

Because stop motion filmmaking is very time-consuming, some people take two images of the set before the bendable is slightly repositioned. I feel double framing is fine as the image still looks animated when played back at regular speed.

An additional advantage making an animation film has over other forms of filmmaking is that each individual film frames tells part of the story. Each super-8 film cartridge contains approximately 3,500 to 3,600 frames, and as you can see, that is a LOT of story telling!