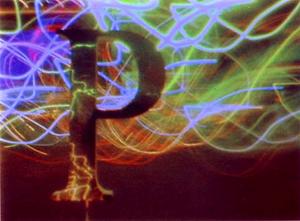 Super-8 Film Time-Exposure Frame.
Los Angeles Flicker Film Festival and In-Camera Editing
For more Information
on my 20 plus years
making films and videos,
please visit Alex LOGIC.
I am also an ideas person,
and an excellent collaborator.

"The Attack of the 50 Foot Film Reels" is probably one of the most popular and progressive Super-8 film festivals in the world. Located the West Coast of the United States in Hollywood California at the Egyptian Theatre, The Attack of the Fifty Foot Reels has become an annual gathering for daring Super-8 filmmakers. Although the In-Camera Editing concept has been around for a while, Flicker and Norwood Cheek has raised the stakes.

25 filmmakers each pay $30.00 for their very own Super-8 Film Cartridge. The 25 Filmmakers can only edit their film as they shoot it, this is known as in-camera editing. Sound, usually non-synchronous in nature, can be sent in with the filmmakers completed but undeveloped film cartridge. The sound must be submitted on a CD. The Super-8 films are then processed by Yale Labs in the San Fernando Valley. The Processed Super-8 Films are then transferred to either the Broadcast quality Video Format known as BetaCam SP or the more cost effective Mini-DV.

Norwood Cheek, the founder of Flicker supervises the Super-8 Film to Video transfer session at Yale Labs. The filmmakers usually do provide a CD soundtrack for their film. The CD Soundtrack is added onto the Video Master and the finished films are shown for the first time at the Egyptian Theatre in Hollywood California. Although the films are being projected via video projection in a large movie theatre that seats 600 people, they still retain the look of film and frankly are just as appealing to look as productions that originated on Mini-DV. The 25 filmmakers will see their Super-8 films for the FIRST TIME EVER at the Egyptian Theatre in Hollywood California in front of a hopefully sold out audience of around 600 people. This can be a gut wrenching experience as the filmmaker watches their film for the first time ever in the company of others, several others, several hundred "others".

This Annual festival takes place every year between mid October to Mid November, 7:30 pm at the Egyptian Theatre in Hollywood. Tickets can be purchased either prior to the night of the show online or the night of the show at the Egyptian Theatre in Hollywood. If you want to know more about Flicker, check out Flicker Flicker organizations are now up and running in over a dozen cities around the world. Every Flicker organization screens film originated movies of 15 minutes or less (they can be project via video, but the projects must have been originally shot on film) every few months.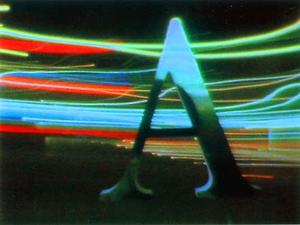 Alphabet Song Time-Exposure Frame
2003 Flicker Attack of the 50 Foot Reels were Spectacular.
There were SEVERAL films from the 2003 Flicker "Attack of the 50 Foot Reels" that were worthy of broadcast or some type of distribution deal. The fact that the filmmakers had to plan their Super-8 film and shoot their entire film in a specific order with NO EDITING other than in-camera editing makes their filmmaking vision that much more noteworthy. In-Camera Edited Super-8 films are an achievement that the public can really relate to and appreciate. How many times has a videographer videotaped an event and wished it could be shown exactly as it was shot without boring anyone? The strategies for producing an entertaining "In-Camera" film are complex. Heavy Dialogue films are generally too hard to make for the "Attack of the Fifty Foot Reels" Super-8 film festival because Kodak no longer makes sound striped Super-8 film. However, filmakers still have a myriad of ways to tell their 3 minute story.

One technique is to keep a running count of the actual frames of film that have been exposed after each shot. The film frames are then converted to real time. The filmmaker can now create a soundtrack that will match their previously shot film based on the notes they took while filming. I used a reverse technique when I made the Alphabet Song in 2003. I selected a song, timed the song, music and lyrics down to a 30th of a second increment. I then Converted the minutes and seconds breakdown of the song into an actual Super-8 frame count, and carefully followed my own notes as I filmed my Super-8 project. The frame counting technique worked perfectly for me. Unfortunately, my film didn't make it into that years Flicker Fest because I did not finish it until one night before the Festival Screening. Other Super-8 In Camera Editing Techniques include creating a "music video", or using voice-over or title cards to help carry your story to fruition. Some Filmmakers go the "experimental" route and create a dizzying array of time-lapse and stop-motion sequences. Super-8 In-Camera Editing reminds me of a "Survivor meets Super-8" type of situation.